As a physician, navigating the world of home-buying can be an overwhelming endeavor, but many financial institutions offer special loan opportunities that make this process smoother and more affordable. One such example is Truist, which provides physicians who are in residency, internship, fellowship, and DPM programs with the opportunity to apply for primary home loans up to $1 million with 100% financing and no PMI.
Loans for Young Physicians
Even though rates are higher compared to the last couple of years, taking advantage of special financing during your training years is an invaluable opportunity. Young physicians in training can acquire up to $1 million in loans with no down payment and no private mortgage insurance, making homeownership more attainable.
Loans for Attending Physicians
For attending physicians in practice for less than 15 years, similar opportunities are available. You can qualify for a $1 million loan with 100% financing, a $1.5 million loan with just 5% down, or a $2 million loan with 11% down, provided your debt-to-income ratios justify the amount borrowed.
Why Choose Special Physician Programs
These special programs aim to assist physicians in purchasing homes without the financial strain typically associated with large loans. While Truist is just one bank offering this program, there may be others. It is crucial to ask your broker about any special physician programs to ensure you're not missing out on opportunities to save.
Working with Trusted Professionals
Many physicians have successfully worked with Truist Bank and specifically, Lynn Higley. Reach her at 407-923-3939 or email at lynn.higley@truist.com. Make sure to mention you heard about her through InsuranceMD to be placed in the correct program.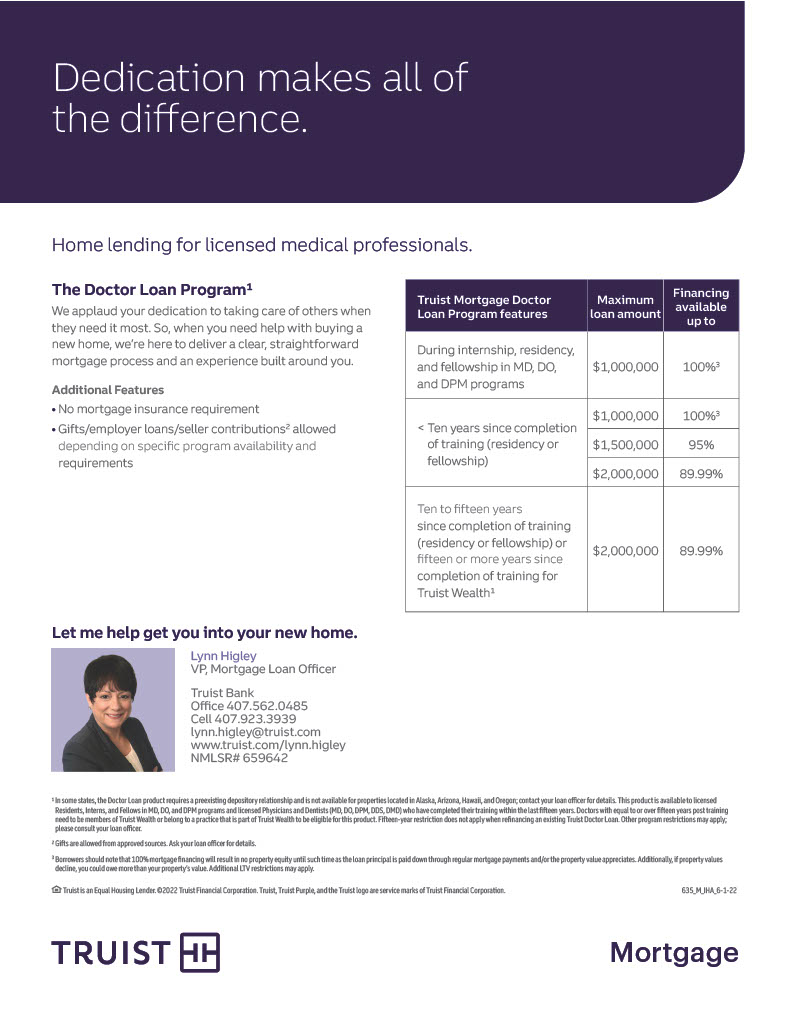 Physicians cannot afford to overpay, so it's crucial to exploit all the financial advantages offered by institutions eager to earn your business. This approach can save you thousands over your career and provide you and your family with opportunities that place you ahead of the curve.
At InsuranceMD, we also assist in finding discounts on True Own Specialty Disability insurance that you may be eligible for through your hospital affiliations. Ensure to inquire about how you can save money in this area as well. Your financial wellbeing is paramount, and taking advantage of these special programs is a step in the right direction.