Disability Insurance for Residents
Own Specialty Disability Insurance for Residents
The largest investment you have made thus far has been in yourself.  Your Education, Training, and experience have brought you to the verge of entering into a rewarding career where according to Medscape, the average American physician earns $313,000 per year.  Giving you an 11 million dollar career earning potential thus making your most valuable financial asset your ability to earn an income while working in your medical specialty.
Protect yourself with Own Specialty Disability Insurance.  Own Specialty Disability Insurance provides residents with a policy that would pay your "full" disability benefit i f a sickness or injury prevented you from working in your medical specialty even you elect to work in another occupation, regardless of the income you earn.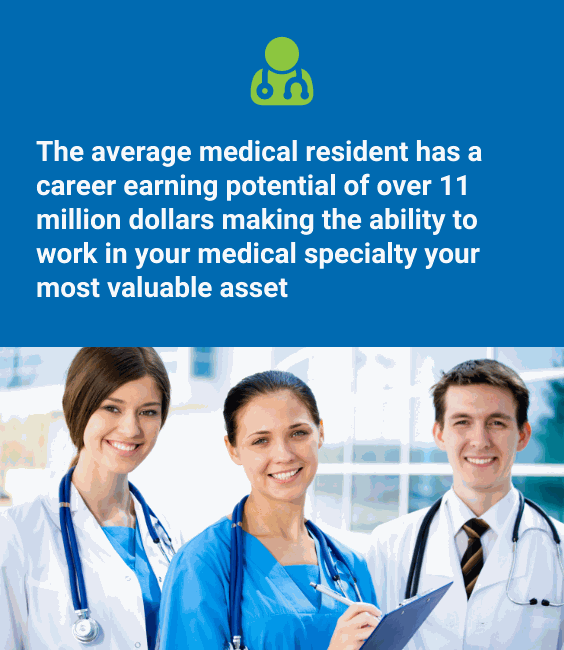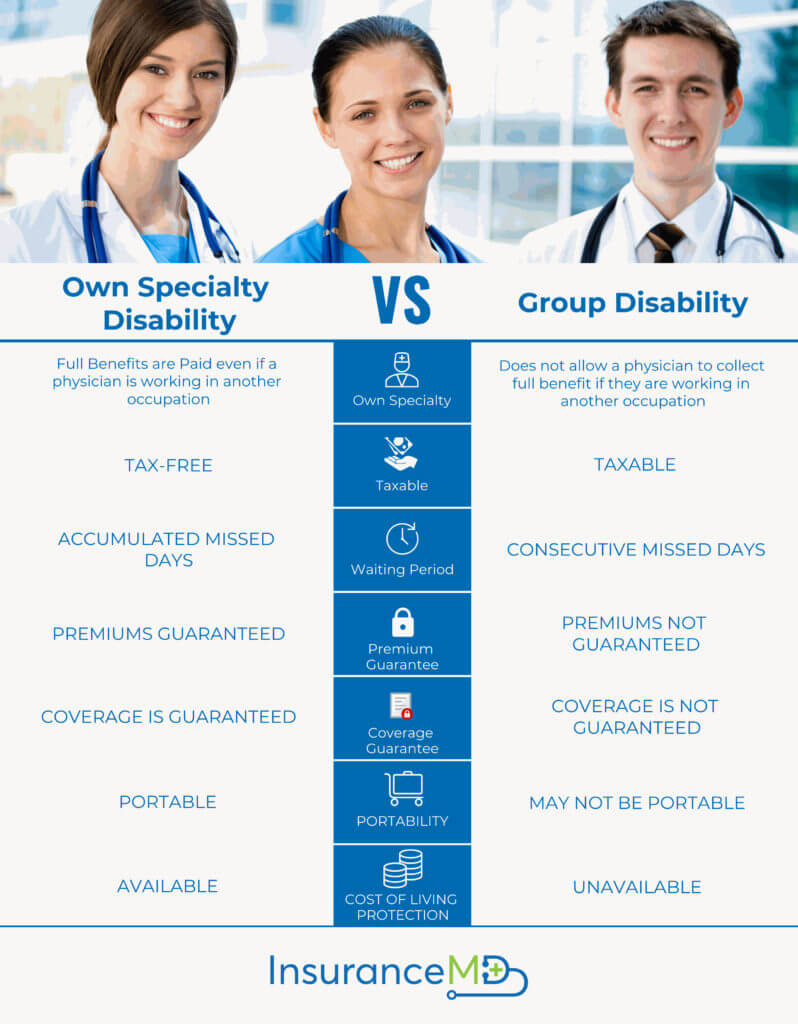 Group Employer-Sponsored Disability Insurance is not good enough
Group coverage is NOT True Own Specialty –  True Own Specialty Disability Insurance pays your Full Tax-Free monthly benefit should you suffer a sickness or injury that prevents you from working in your current specialty without limiting you from the ability to continue to work in another occupation.  Employer-Sponsored Long Term Disability provides your full coverage if only due to a sickness or injury you are prevented from performing working in your current specialty provided you are not otherwise engaged or gainfully employed in any other occupation for wage or profit.
Coverage is not guaranteed – although you may have a group policy today that doesn't mean you will have a group policy tomorrow.  Your Employer-Sponsored plan can be canceled, changed, or modified leaving you and your income vulnerable.  
Coverage may not be portable – If you change jobs or elect to go into private practice you may not have the choice to bring your policy with you.  If you do have the choice the premiums are expensive and not guaranteed.
Disability Insurance is cheaper during residency
During residency is the best time to purchase Own Specialty Disability Insurance.  Most carriers offer special rates and discounts exclusive to you during residency only. 
If you get covered now you'll lock in your savings for the rest of your career.  What you pay today will be the same rate you pay decades from now.  
Getting coverage today and adding a future purchase guarantee protects your insurability from any health changes that may occur as you get older allowing you to increase your coverage as your income increases regardless of your health.  
There are only 6 insurance carriers that offer Own Specialty Disability Insurance to Medical Residents:  Ameritas – Guardian – MassMutual – Ohio National – Principal – The Standard.  Apply today and save!