According to the Bureau of Labor Statistics, in 2021, the unemployment rate for people living with disabilities was 2X those living without one. Post-COVID, disabilities such as decreased cognitive function, are also on the rise.
True Own Specialty Disability Insurance ensures full control over your career trajectory and income. Unlike most employer group coverage, an Own Specialty Disability policy pays your full benefit even if you're disabled but can work in another occupation or medical specialty.
For those on the front lines fighting against the pandemic, physicians are especially vulnerable to a future disability.
True Own Specialty Disability Insurance vs. Employer Sponsored Group Disability Insurance
While insurance companies offer what they claim to be a comprehensive disability insurance plan, the reality is that most employer-offered disability insurance plans fall short of what you and your family need, should you suffer an accident or illness during your career. It comes down to how an insurance company defines a disability. These subtle definitions can affect your career trajectory and earning potential.
Things to look for:
Clauses that give insurance companies the right to assess how you can or cannot work in light of your disability.
Offering only a brief list of alternative employment options which you can choose from based on their assessment of your education, training, and experience.
A clause that allows you to choose a new career but reduces or eliminates the promised benefit altogether. In these cases, you keep your power of choice but lose your earning power.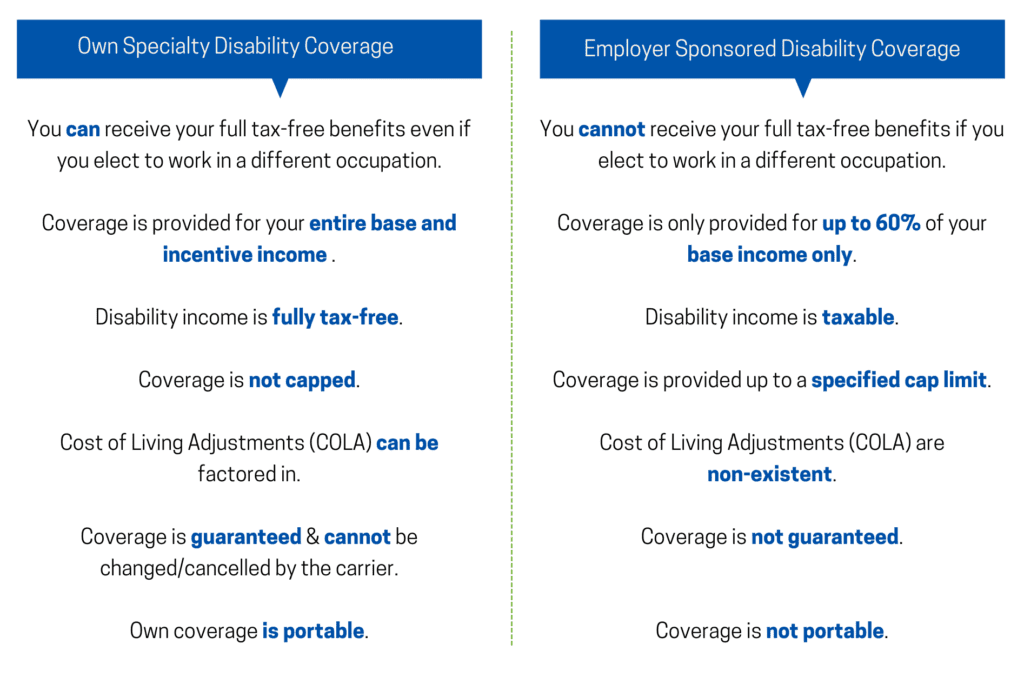 Protect Your Income and Career Trajectory
As a physician with a busy schedule, you may assess your options hurriedly and sign up for insurance plans before reading all the fine print. It's important that you take the time necessary to investigate all the available options that are crucial to protecting your income and career.
Connect with a licensed talk agent today to discuss your current disability coverage and your True Own Specialty Disability Insurance coverage options.